Living like a Pirate!
Fall Housing Fair – November 9, 2023
Off-Campus Student Services will host a Fall Housing Fair on Thursday, November 9, 2023, from 10:00 am -2:00pm in the Main Student Center Ballroom C.  If you are considering living off-campus, this event is for you!!  Students will have the opportunity to meet with surrounding apartment complexes and various ECU departments. Parents are also encouraged to attend as well.  The event will include FREE food, prizes, and great information. If you have any questions, please don't hesitate to contact us at ocss@ecu.edu.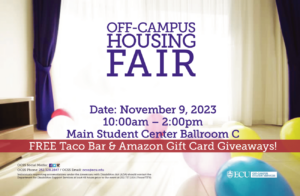 Thinking About Living Off-Campus?
Living off-campus does have its freedoms, but it comes with more rules, regulations, and responsibilities. When you live off-campus, you will be a student of East Carolina University and a citizen of the City of Greenville.
ECU students living off-campus should be familiar with the ECU Student Code of Conduct, and the City of Greenville Code Enforcement  Before you sign a lease agreement, you need to understand and know all the facts, as a lease is a legal binding document. Off-Campus Student Services works with students to explore off-campus housing needs for successful living experience away from the campus residence halls.
Please review our Off-Campus Housing Guide–  It is a helpful guide to learn more about off-campus housing.
Have a sublease or looking for a sublease? Students post for FREE at www.offcampushousing.ecu.edu  
---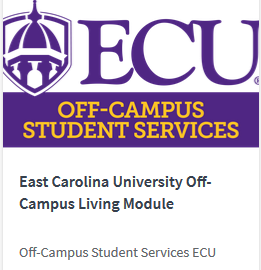 This interactive module is an introduction to the resources and assistance the University, and the surrounding communities provide as you transition off-campus. When you are finished you should be able to:
Estimate the cost to live off-campus
Know and discuss the steps to complete an application, inspect your apartment when you arrive, sign a lease, and know your rights and responsibilities
Understand the importance of being a good neighbor.
Move into your new residence, set up utilities (if you have too), set expectations with your roommates, and meet your neighbors
Click Here to take the Module
---
Freshman/First-Year Live On-Campus Requirement
East Carolina University Freshmen (defined as students who have completed fewer than 30 hours of college credit – excluding AP, dual enrollment, or early college hours) are required to live in college housing for at least two semesters. Exempted from this policy are students who have reached their twenty-first birthday prior to the first day of classes; veterans of the U.S. Armed Forces; married students; students with dependent children (living with them); or students who commute to school daily from the permanent, legal residence of their parents (within a 35 mile radius of campus.)
More information: https://housing.ecu.edu/